Translanguaging Guides
The crown jewels of CUNY-NYSIEB, these guides offer dozens of strategies and approaches for teachers working with emergent bilingual students at all grade levels and in all program models.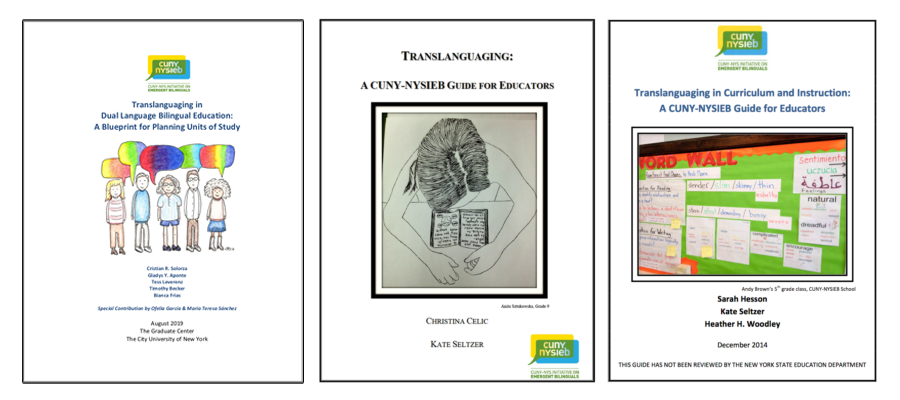 Translanguaging: A CUNY-NYSIEB Guide for Educators
This guide provides concrete strategies for experimenting with translanguaging in their classrooms. Click
here
to download a copy in PDF format.
El Translenguar: Una Guía de CUNY-NYSIEB Para Educadores – Versión Abreviada en Español
Esta guía es una traducción abreviada de la guía en inglés, "Translanguaging: A CUNY-NYSIEB Guide for Educators" y tiene estrategias concretas para experimentar con el translenguar en sus salones de clase.
Translanguaging in Curriculum and Instruction Guide
Translanguaging can be seamlessly integrated into units of study aligned to the Common Core State Standards (CCSS), enabling students to meet the rigorous standards to which they (and their teachers) are held. This guide adapts one unit of study from Expeditionary Learning, a CCSS-aligned curriculum adopted by New York State, as well as 8 new units of study with the same basic format. Download a copy here.
A Translanguaging Pedagogy For Writing: A CUNY-NYSIEB Guide for Educators
This guide extends an invitation to teachers of all grade levels, and across disciplines and programs to examine how you currently instruct writing, and to try out innovative tools and practices with your emergent bilinguals. We situate ourselves within a long trajectory of writing educators and scholars, as well as offer a novel "language as a resource" perspective on the teaching of writing based on the CUNY-NYSIEB principles.
Translanguaging in Latino/a Literature: A CUNY-NYSIEB Guide for Educators: This guide offers analysis of language use in 32 works of Latino/a literature that are appropriate for Grades PreK-12, analyzing 17 books for grades PreK-6 and 15 books for grades 7-12. The analysis of each book includes lexile level, themes, author biography and website, a list of supplemental resources, a summary of the book, and an analysis of the way that the author uses translanguaging, the flexible use of linguistic resources, in literature.
The Languages of New York State: A CUNY-NYSIEB Guide for Educators: Learn more about the languages your students speak! This guide provides information about the top ten languages other than English spoken by emergent bilinguals. Descriptions include a brief history of the language, a few details about the cultures of the people who speak the language, and their experiences in New York State. It also includes some basic structural features of the languages as well as cognates and basic phrases. Download a copy.
Translanguaging in Dual Language Bilingual Education: A Blueprint for Planning Units of Study: This guide demonstrates how to include translanguaging spaces in dual language bilingual education (DLBE) programs. In this guide, we offer a blueprint for envisioning translanguaging in dual language bilingual education, practical examples to help translate theory into practice, and two sample units of study.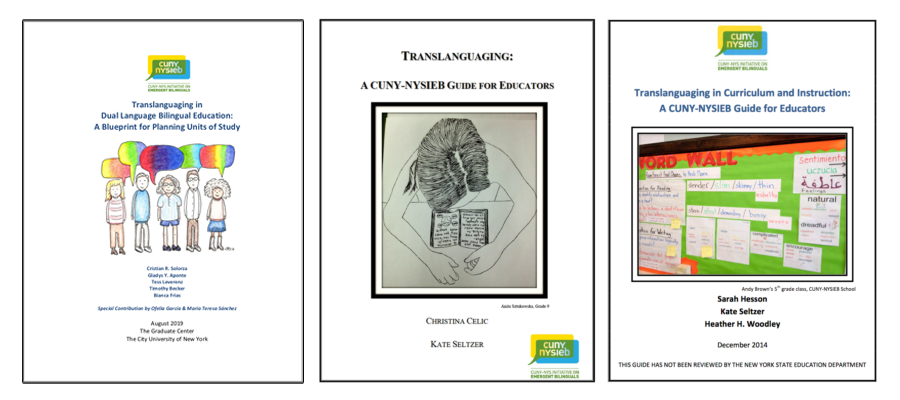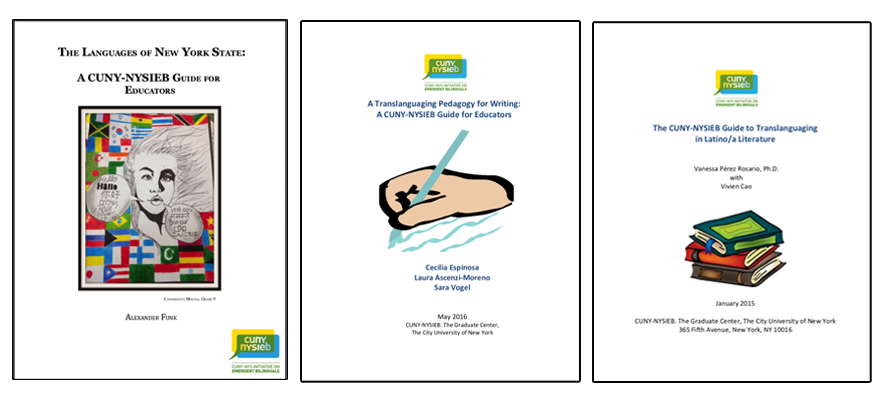 Introduction to Translanguaging Guides:
Unpack the strategies in the guides through these series of videos, which provide an introduction to the documents.
This CUNY-NYSIEB Online Presentation includes six short videos to introduce you to 
Translanguaging: The CUNY-NYSIEB Guide for Educators
 by Christina Celic and Kate Seltzer. We recommend that you watch all the 
videos
 in order and do the activities (in the last three videos) on your own or in small groups. Make sure that you 
download the Guide
 before you watch these presentations. The videos and the text version of the activities for Part 1, 2 and 3 of the Guide are below:
We would like to thank Ms. Leilani Mabrey for sharing her lesson and materials for this online presentation.
Resources from the state and beyond:
Engage NY Common Core progressions
—Teachers looking to integrate translanguaging strategies into their practice will find a helpful framework for doing so in the State's bilingual Common Core progressions which "include five levels of language proficiency and demonstrate a trajectory of language learning and teaching."