CUNY-NYSIEB Ambassador: Sunisa (Nisa) Nuonsy
(11th & 12th Grade English Language Arts Teacher)
Meet Nisa ….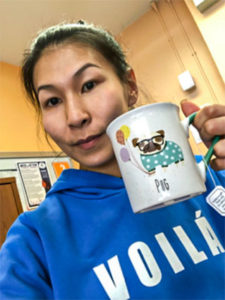 Sunisa (Nisa) Nuonsy has taught English Language Arts at International High School at Prospect Heights for the last six years. She attributes her passion for multilingual learning to her own experiences as an immigrant, refugee, and English language learner. Her students, all of whom are relatively new to the United States, remind her of herself and her family members. Nisa identifies as a lifelong language learner and models this stance for her students. In creating space in her classroom for students to embrace their multilingual identities, Nisa hopes to help them remain connected to their home countries and cultures and to recognize the inherent strength of their multilingualism.
Take a Peek in Nisa's Classroom
Fast Facts
School: International High School at Prospect Heights
Type of Classroom: 11th and 12th Grade English Language Arts Classroom
Language Use: Nisa and her students translanguage regularly, flexibly drawing on their full linguistic repertoires as they read, write, and speak
Unit Overview
This webpage provides two lesson snapshots from a larger unit Nisa conducted on Their Eyes Were Watching God by Zora Neale Hurston.
In this study of Zora Neale Hurston's Their Eyes Were Watching God, Nisa encouraged her students to think of themselves as anthropologists, as Hurston completed anthropological fieldwork prior to writing this novel. After introducing the idea of anthropological fieldwork through a Hurston documentary, Nisa encouraged her students to apply this anthropological lens to their own cultures. They discussed folklore and made posters with their selected story. Then, they read the novel, analyzing in particular language, gender, and symbolism.
Lesson Snapshot: Folklore
During this lesson, which spanned five days, Nisa encouraged the students to explore folktales from their cultures with a focus on the language used to tell these stories. The lesson culminated in a poster of their self-selected folktale written on a narrative arc.
Nisa read aloud a sample folktale, Br'r Rabbit and Sis Cow
Students engaged in a whole-class discussion about the definition of folklore and the purpose of vernacular and figurative language in the folktale
Students self-selected groups and chose a folktale of their own to transcribe and analyze
Students wrote the folktale in language(s) of choice, then translated into English
Students created poster of transcribed folktale on a narrative arc
Students presented folktale to class and discussed which words or phrases were not able to be translated and why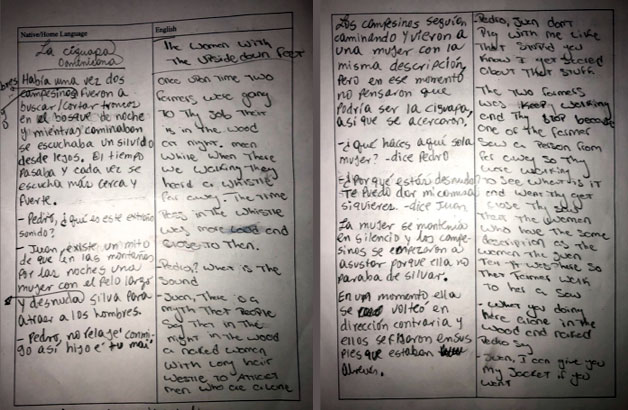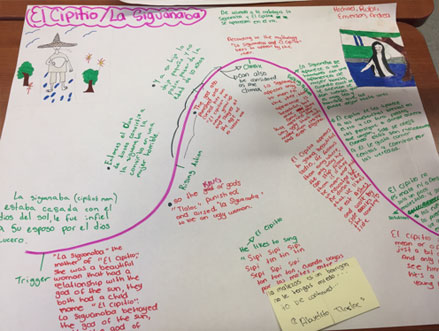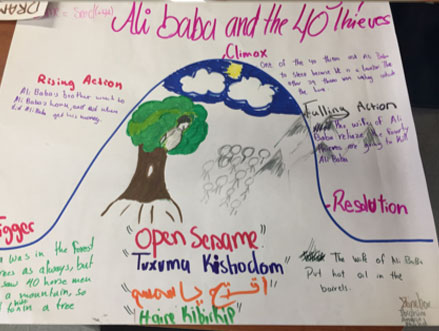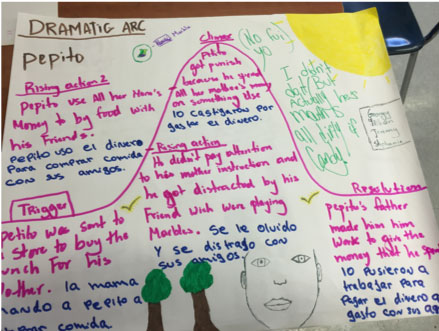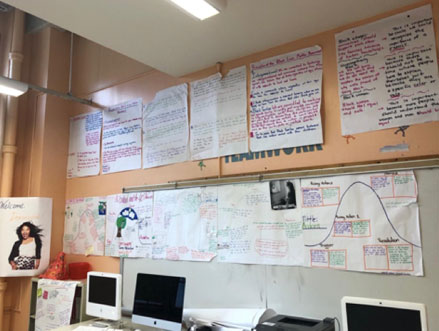 Lesson Snapshot: Thematic Statements
This lesson was done after the students finished reading the novel Their Eyes Were Watching God. The lesson lasted for one period. Nisa asked her students to reflect in their linguistically heterogenous assigned groups on major themes of the text. The students first plotted the narrative arc of the novel to remind themselves of the major events; then, they selected main ideas, which they turned into thematic statements in the language(s) of their choice before translating to English.
Nisa opened by asking students to reflect on important moments in the text
Students shared with class
In linguistically heterogenous assigned groups, students added events from Their Eyes Were Watching God to the narrative arc: trigger, rising action, climax, falling action, and resolution
In the same groups, students brainstormed major ideas from the book
Students individually selected a major idea and wrote it into a thematic statement, first in home language and then in English
Students shared thematic statements with the class
In the following video, you will see how during her lesson, Nisa encourages the students to share in their home language and to translate for one another as they discuss their ideas as a whole class.
Nisa Utilizes the Following Strategies in her Classroom:
Flexible Grouping – Students frequently collaborate in small groups and as a whole class. Small groups may be self-selected or assigned. When assigned, Nisa sometimes places students in homogenous language groups; other times, she intentionally places them in linguistically heterogenous groups. These various arrangements support students across of range of languaging tasks.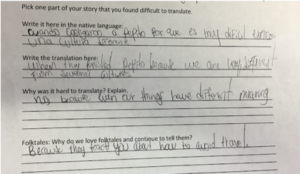 Bilingual Brainstorms – Nisa encourages her students to complete class notes, graphic organizers, and other formative assessments or class activities in whatever language they choose.
Oral Language Development – Students engage in almost constant discussions in Nisa's classrooms; there is rarely a quiet moment! Students translate for one another, compare across languages, and work together to create meaning in a collaborative environment.
Personal Stories – Nisa models the importance of drawing on personal experience by sharing stories from her own life. These stories may feature her own experiences as an immigrant or a language learner. These stories help the students think about how the texts and the content they are learning connects to their own lives.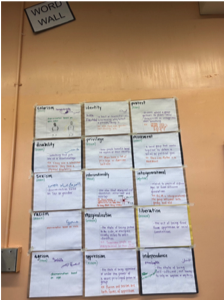 Multilingual Word Walls – Nisa's students collaborate to create multilingual word walls. These unique word walls include unit vocabulary terms (such as "intersectionality" for this unit) and translations of the word into each of the home languages utilized by students in the class.
The Power of Translanguaging in the Classroom: Nisa Reflects
"Translanguaging has really changed my stance as a teacher and in the classroom… You can ask any teacher in this school, I've been talking about translanguaging a lot… But it's not just me, because I think that the other teachers are thinking about it, too. But they're scared, right? They're not sure how to use native language in the classroom, because it just requires so much control that you have to give up. So I think as teachers, sometimes our ego gets in the way, we want to know everything that every student is saying at every moment. But even in English, that doesn't happen." – Nisa Nuonsy