Research
CUNY-NYSIEB links theory, research, and practice. Our Principal Investigators, Associate Investigators and Research Assistants capture data from their experiences at schools in CUNY-NYSIEB cohorts, teasing out observations, themes and trends, for the benefit of other educators and school leaders. On this page, find academic publications authored by members of our team, as well as reports from the State and other sources which we have found useful.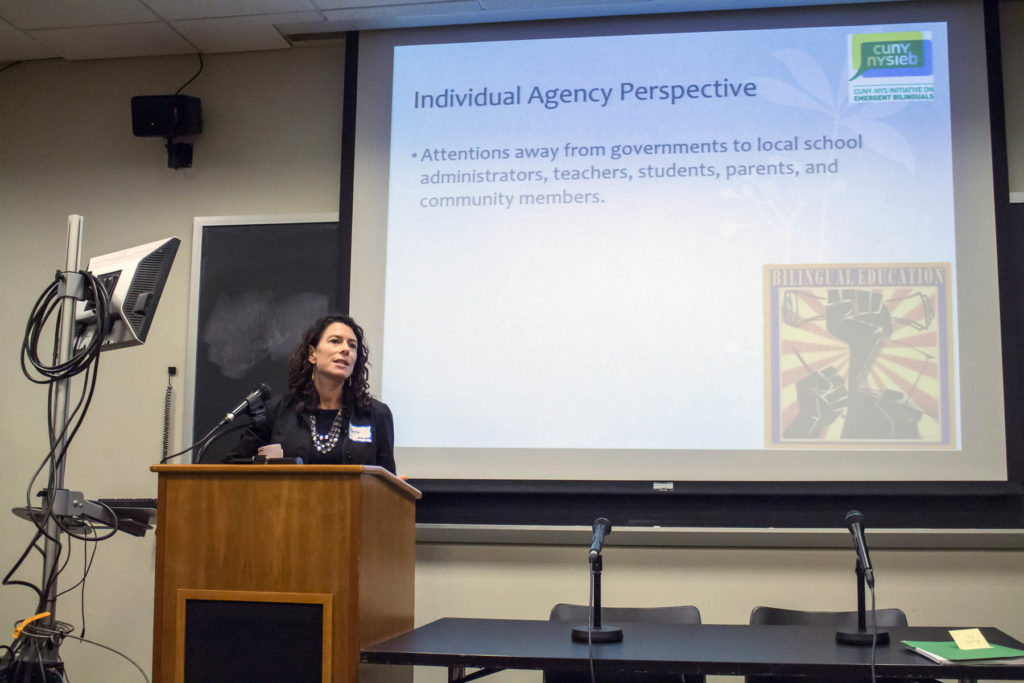 Books
Articles
Research by CUNY NYSIEB team:
2021
Sanchez, M.T. & Espinet, I. (2021) Transforming our Classrooms to Embrace the Students' Multilingualism: Translanguaging Stance and Transformative Pedagogy. In Migration, Multilingualism and Education: Critical Perspectives on Inclusion. Latisha, A & Birte A. Eds.
2020
Espinet, I; Zaino, K & Demeroukas, M.  (2020) Translanguaging Narratives: Leveraging Students' Linguistic and Multimodal Practices in an ENL classroom.  In In search of a language Pedagogical Paradigm, Daszkiewicz, M. & Dąbrowska, A. Eds. Krakóv: Impuls
2019
Espinosa, C. & Lehner-Quam, A. (2019) Sustaining Bilingualism: Multimodal Arts Experiences for Young Readers and Writers,Language Arts (March 2019).
Journal of Multilingual Research Volume 9 (2019) The Power of Voice: Contributions of Ofelia García to Language Education
Menken, K., & Sánchez, M.T. (2019). Translanguaging in English-only schools: From pedagogy to stance in the disruption of monolingual policies and practices. TESOL Quarterly, 53(3), 741-767. https://doi.org/10.1002/tesq.513
Menken, K., & Sánchez, M. T. (2019). Distributed leadership in schools with "Emergent Bilingual Leadership Teams" for collaborative decision making. In E. R. Crawford & L. M. Dorner (Eds.), Educational Leadership of Immigrants: Case Studies in Times of Change (chapter 16). New York, NY: Routledge.
2018
Ascenzi-Moreno, L. (2018) Translanguaging and Responsive Assessment Adaptations: Emergent Bilingual Readers through the Lens of Possibility. Language Arts Journal, 95(6).
Espinosa, C. M. (2018). PD in Developing Biliteracy Skills in ELT. The TESOL Encyclopedia of English Language Teaching, 1-6.
Espinet, I., Collins, B., & Ebe, A. (2018). Leveraging Students' Translanguaging Practices to Strengthen the School Community. Schools of Promise for Multilingual Students: Transforming Literacies, Learning, and Lives, 118.
Menken, K., Rosario, V. P., & Guzmán Valerio, L. A. G. (2018). Increasing Multilingualism in Schoolscapes: New scenery and language education policies. Linguistic Landscape, 4(2), 101-127.
García, O., Menken, K., Velasco, P. & Vogel, S. (2018). Dual language bilingual education in NYC: A potential unfulfilled. In Arias, M.B. & Fee, M. Profiles of Dual Language Education in the 21st Century (pp. 38-55). Washington D.C. and Bristol: Center for Applied Linguistics and Multilingual Matters.
García, O., & Sánchez, M.T. (2018). Transformando la educación de bilingües emergentes en el estado de Nueva York. Language, Education, and Multilingualism, 1, 138-156.
Seltzer, K., & de los Ríos, C. (2018). Translating Theory to Practice: Exploring teachers' raciolinguistic literacies in secondary english classrooms. English Education, 51(1), 49.
Vogel, S., Ascenzi-Moreno, L., & García, O. (2018). An Expanded View of Translanguaging: Leveraging the dynamic Interactions Between a young multilingual writer and machine translation software. In Plurilingualism in Teaching and Learning (pp. 105-122). Routledge.
2017
Ascenzi-Moreno, L. (2017). From deficit to diversity: How teachers of recently-arrived emergent bilinguals negotiate ideological and pedagogical change. Schools: Studies in Education, 14(2), 276-302.
Ascenzi-Moreno, L., & Espinosa, C. M. (2017).Opening Up Spaces for Their Whole Selves: A Case Study Group's Exploration of Translanguaging Practices in Writing. journal.nystesol.org
de los Rios, C. V., & Seltzer, K. (2017). Translanguaging, Coloniality, and English Classrooms: An exploration of two bicoastal urban classrooms. Research in the Teaching of English Volume 52, Number 1, August 2017.
García, O., Johnson, S. I., Seltzer, K., & Valdés, G. (2017). The translanguaging classroom: Leveraging student bilingualism for learning. Philadelphia, PA: Caslon.
García, O., Seltzer, K. & Witt, D. (2017). Disrupting linguistic inequalities in US urban classrooms: The role of translanguaging. In The Multilingual Edge of Education, S. Slembrouck, K. Van Gorp, S. Sierens, K. Maryns, and P. Van Avermaet (Eds). Palgrave Macmillan UK.
Sánchez, M. T., García, O., & Solorza, C. (2017). Reframing language allocation policy in dual language bilingual education. Bilingual Research Journal, 41(1), 37-51.
Vogel, S., & García, O. (2017). Translanguaging. In Noblit, G. (Ed.), Oxford Research Encyclopedia of Education. Oxford: Oxford University Press.
2016
Ascenzi-Moreno, L. (2016). An exploration of elementary teachers' views of informal reading inventories in dual language bilingual programs. Literacy Research and Instruction, 55(4), 285-308.
Ascenzi-Moreno, Hesson, S., & Menken, K.  (2016). School leadership along the trajectory from monolingual to multilingual. Language and Education, 30(3). DOI: 10.1080/09500782.2015.1093499
Espinosa, C. M. (2016). Reclaiming bilingualism: Translanguaging in a Science class. In Translanguaging with Multilingual Students (pp. 174-192). Routledge.
García, O., & Ascenzi-Moreno, L. (2016). Assessment in school from a translanguaging angle. Gegenwärtige Sprachkontakte im Kontext der Migration. Heidelberg, Germany: Universitätsverlag Winter.
García, O. & Seltzer, K. (2016). The Translanguaging current in language education. In B. Kindenberg (ed.) Flerspråkighet som resurs [Multilingualism as a resource]. (pp. 19-30). Liber.
García, O. & Kleyn, T. (Ed.). (2016). Translanguaging with multilingual students: Learning from classroom moments. Routledge.
2015
Cioè-Peña, M. (Fall 2015). Translanguaging within the monolingual special education classroom. Theory, Research, and Action in Urban Education, 4(1).
Cioè-Peña, M. and Snell, T. (Fall 2015). Translanguaging for social justice. Theory, Research, and Action in Urban Education, 4(1).
García, O., & Menken, K. (2015). Cultivating an ecology of multilingualism in schools. Challenges for language education and policy: Making space for people, 95-108.
García, O., & Sánchez, M.T. (2015). Transforming schools with emergent bilinguals: The CUNY-NYSIEB Project. In I. Dirim et al. (Eds.) Impulse für die migrationsgesellschaft. Bildung, politik, und religion (pp. 80-94). Waxmann; Münster, Germany.