Research
CUNY-NYSIEB links theory, research, and practice. Our Principal Investigators, Associate Investigators and Research Assistants capture data from their experiences at schools in CUNY-NYSIEB cohorts, teasing out observations, themes and trends, for the benefit of other educators and school leaders. On this page, find academic publications authored by members of our team, as well as reports from the State and other sources which we have found useful.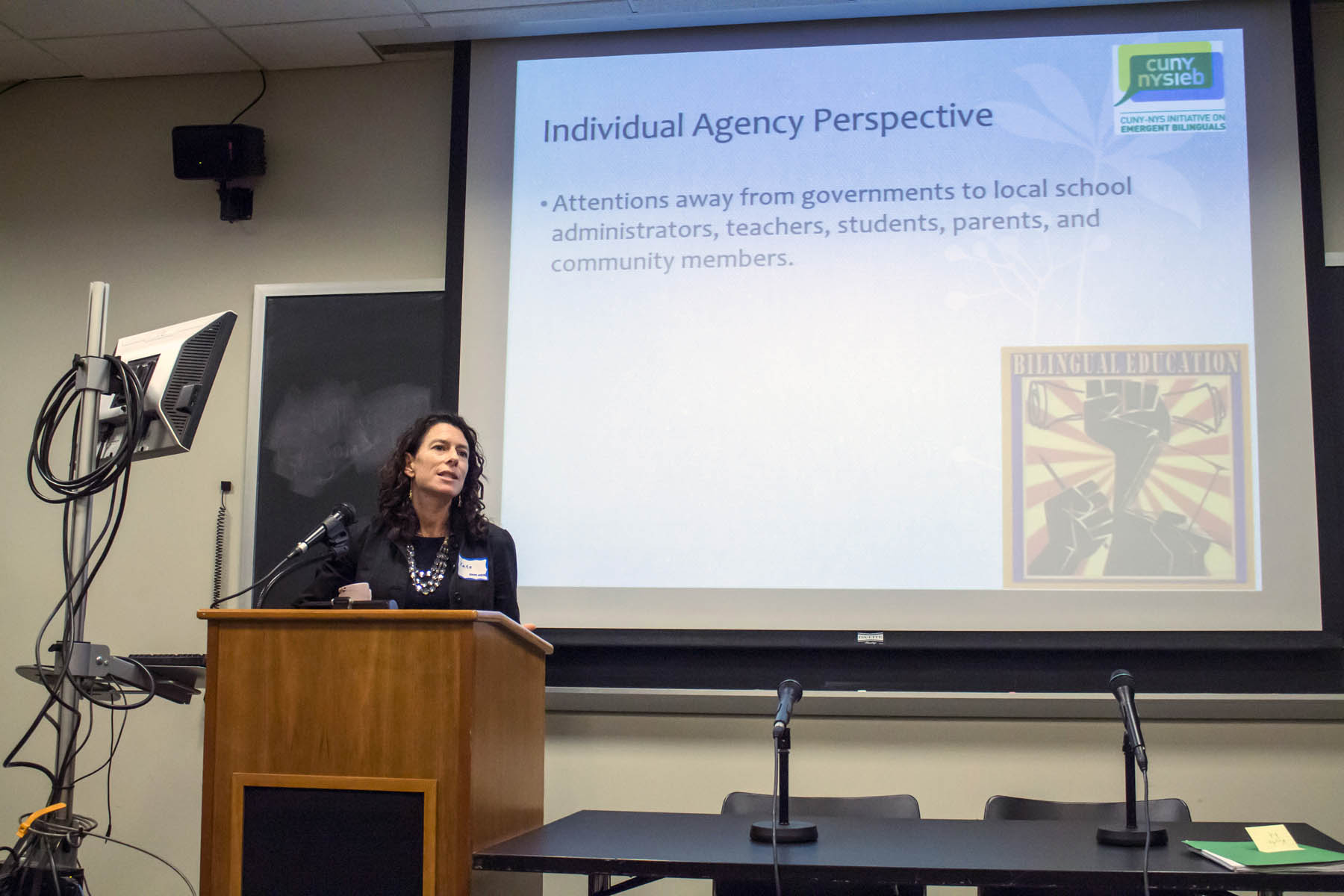 Research
School Leadership Along the Trajectory from Monolingual to Multilingual by Laura Ascenzi-Moreno, Sarah Hesson and Kate Menken.
Research on CUNY-NYSIEB:
García, O. & Menken, K. (2015). Cultivating an ecology of multilingualism in schools. In B. Spolsky, O. Inbar-Lourie, & M. Tannenbaum (eds.), Challenges for Language Education and Policy: Making Space for People. New York: Routledge.
García, O., & Sánchez, M. (2015). Transforming schools with emergent bilinguals: The CUNY-NYSIEB Project. In I. Dirim, I. Gogolin, D. Knorr, M. Krüger-Potratz, D. Lengyel, H. Reich, & W. Weiße (Eds.) Intercultural education: Festchrift for Ulla Neumann. Berlin, Germany: Waxmann-Verlag, pp. 80-94.
García, O., & Kleyn, T. (Eds.). (2016). Translanguaging with Multilingual Students: Learning from Classroom Moments. New York: Routledge.
Sánchez, M. T., García, O., & Solorza, C. (2017). Reframing language allocation policy in dual language bilingual education. Bilingual Research Journal, 1-15.
García, O. & Seltzer, K. (2016). The Translanguaging current in language education. In B. Kindenberg (ed.) Flerspråkighet som resurs [Multilingualism as a resource]. (pp. 19-30). Liber.
García, O., Seltzer, K. & Witt, D. (2017). Disrupting linguistic inequalities in US urban classrooms: The role of translanguaging. In The Multilingual Edge of Education, S. Slembrouck, K. Van Gorp, S. Sierens, K. Maryns, and P. Van Avermaet (Eds). Palgrave Macmillan UK.
Vogel, S., Ascenzi-Moreno, L. & García, O. (forthcoming). An Expanded view of translanguaging: Leveraging the dynamic interactions between a young multilingual writer and machine translation software. In Choi, J. & Ollerhead, S. (Eds.). Plurilingualism in Teachingand Learning: Complexities Across Contexts. New York: Routledge.
Ascenzi-Moreno, Hesson, S., & Menken, K.  (2016). School leadership along the trajectory from monolingual to multilingual. Language and Education, 30(3). DOI: 10.1080/09500782.2015.1093499
Ascenzi-Moreno, L. (2017). From deficit to diversity: How teachers of recently-arrived emergent bilinguals negotiate ideological and pedagogical change. Schools: Studies in Education, 14(2), 276-302.